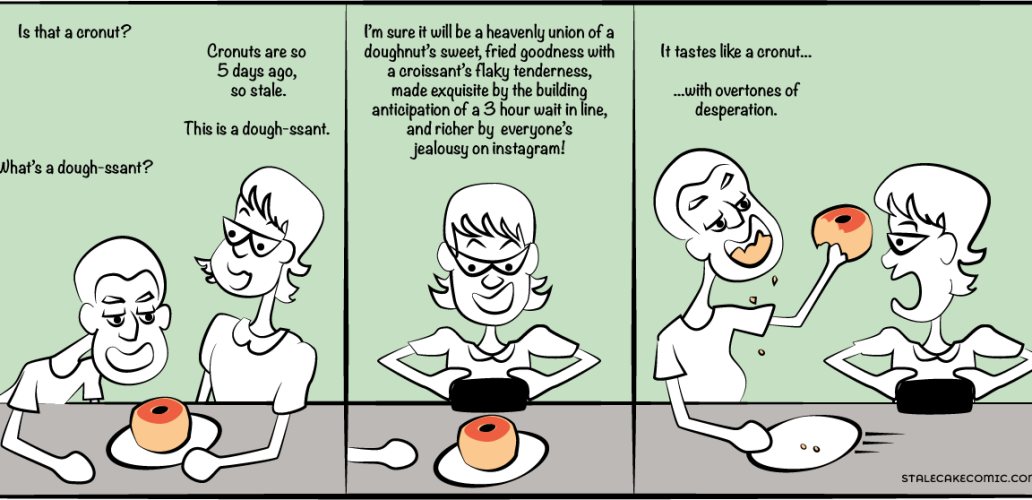 Time to Make the Cronuts
Time to Make the
Cronuts
It's Alive!
This past May, the bastard child of the donut and croissant, the Cronut™, was born. It immediately become a collective dessert obsession. Chef Dominque Ansel's creation has people in NYC waiting in long lines, at peak averaging six hours, for the chance to taste the magic. It has entitled, marginally talented and nepotism-enhanced celebs (yeah, you Emma!), trying to cut in front of those lines just to get a taste of the franken-pastry goodness.
Screw a Klondike bar, what would you do for a Cronut?
Getting one's hands on a Cronut has been tricky – so tricky that people are going to extremes. The wealthy are sending their assistants to wait in the long lines,. But what about the little guy? Well, it's evident no one cares about the little people. However, one enterprising person advertised a Cronut in exchange for oral sex. Time may be the best solution for Cronuts to lose their novel appeal.
Death of a Cronut?
As Newton theorized, what goes up must come down, or was that Lovin' Spoonful? The long lines, the limited quantities, the classism have some calling for the end of the Cronut era.
On a recent trip to NYC, Asha had a chance to be a part of the Cronut craze. But Asha, being a dessert laggard (she's still on designer cupcakes, SO 2010,) decided to wait until Cronuts become completely irrelevant before trying to purchase one.
The real franken-pastry
But Asha just might have to wait a while. One cream-filled marvel of a pastry has been popular for over 80 years: The Twinkie. Maybe it's popular for all the reasons that distinguish it from the cronut. It's nostalgic instead of novel. It's cheap. You can get it whenever and wherever you want at your local convenience store. And you can't brag about having one because EVERYBODY has. The Twinkie you get may actually be from 80 years ago, but it should taste the same! (We, at Stale Cake, love this last part!)