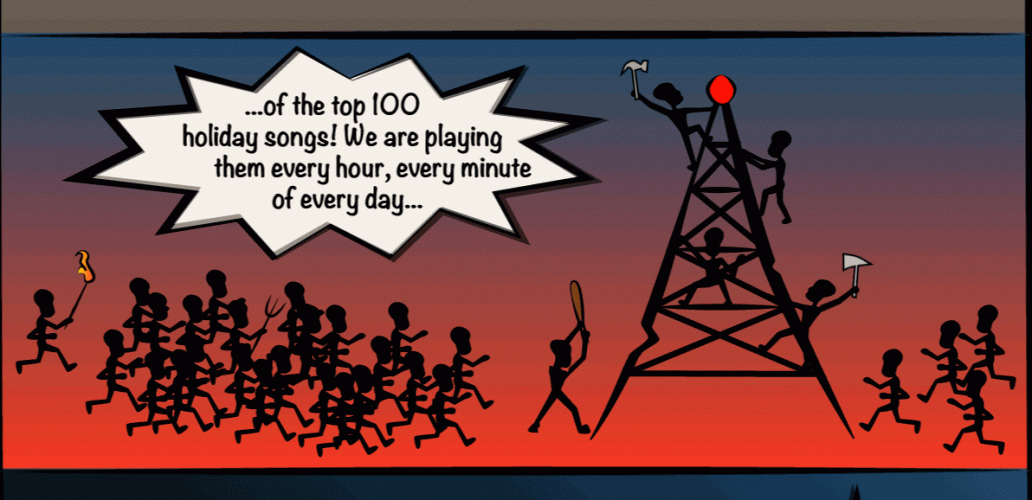 Favorite Holiday Song
Favorite
Holiday
Song
"You're a mean one, Mr. Grinch!"
So begins one of our favorite holiday songs, and after a while we really sympathize with the guy. Maybe he is as sick of this music as we are. How many times can the radio play these songs? Try 782,342 times. According to Mediaguide, "Jingle Bell Rock" was played 782,342 times in 2011 alone. As big a number as that is, it still doesn't feel big enough. Our poor Grinch only got on the radio 112,058 times. Check out the airplay of other holiday classics. Seven different versions of "Let it snow! Let it snow! Let it snow!" made the list, so all together you may have heard the song 872,348 times. That is roughly 10.5 million wishes for snow.
"Do you hear what I hear?"
With the exceptions of "You're a mean one, Mr. Grinch" and "Grandma got run over by a reindeer", the most played songs are tributes to the joys, togetherness, and holiness of the holidays. But what about all those other songs that observe the stress and the weirdness of the season? We thought we'd pull out a few you don't hear on the radio that often, but there are hundreds to choose from! We grouped them into categories, and then you can vote on which category deserves more airtime!
Wacky Christmas gifts
"I Want a Hippopotamus for Christmas" – Gayla Peevey. The only singer on the list who actually got she wanted. Yep, she got that hippo and she donated it to a zoo.
"I Want an Alien for Christmas" – Fountains of Wayne.
"Things I Want" – Sum 41 & Tenacious D. A few things on this list: diamond hyena shootin' fire from his butt, a cannibal chef to cook me sweet and sour butt, a magical sleigh that's pulled by flying skunks.
Depressing family stories
"Christmas Shoes" – New Song. Unfortunately, we hear this on the radio a lot, but we'll find any excuse to post the animated version of Patton Oswalt's rage against this one about a boy buying his dying mother a pair of shoes.
"Please Daddy Don't Get Drunk This Christmas" – John Denver
"Merry Christmas (I Don't Want to Fight Tonight)" – The Ramones
"Did I Make You Cry on Christmas Day? (Well, You Deserved It!)" – Surfjan Stevens. Aw, sweet.
Dance as if nobody's watching!
"Funky, funky Christmas" – New Kids on the Block. Dance instruction: "Throw your hands in the air pause, kick the ballistics Santa Claus."
"Christmas Conga" – Cyndi Lauper. How do you dance the Christmas Conga? You "Bonga! Bonga! Bonga!"
"Santa Claus Is Discoin' To Town Tonight" – Frosty & The Fun Street Gang
Did everyone forget about Hanukkah?
We're not including Adam Sandler's "Hanukkah Song" because it gets plenty of airplay.
"Christmastime For The Jews" – Darlene Love (by Robert Smigel)
"A Lonely Jew On Christmas" – South Park
"Give the Jew Girl Toys" – Sarah Silverman
Christmas during a Nuclear Apocalypse
We guess a nuclear apocalypse puts Black Friday Wal-Mart fights in perspective. Did you know "Do you hear what I hear?" was inspired by the Cuban Missile crisis? We thought it was worth mentioning, but it didn't make the list because of its popularity.
"Christmas At Ground Zero" – Weird Al Yankovic
"Santa Came On A Nuclear Missile" – Heather Noel
"Nuclear Christmas (Single)" – The Cannonball Story